5th international Landrover-Meeting
… for owners and lovers of all 4×4 vehicles made by rover
Again in Soca valley in Slovenia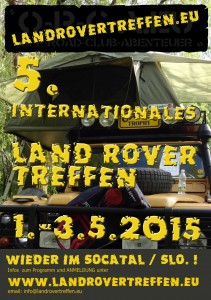 Date: May 1-3, 2015
Slogan – still the same since 2011:
Old Hands meet again
Freshmen get involved
All togehter we enjoy a good time!
IMPORTANT: everybody is welcome … landrover-owners AS WELL AS people who are passionate Offroaders AS WELL AS people who love the landrover-spirit AS WELL AS people who want to find likeminded ones!
Location: Soca-valley in Slovenia
Camp Vili, Volarje 64, 5220 Tolmin
Koordinaten: N 46°12'22" E 013°40'53"
To get there is possible in various ways. Roadbooks and recommendations are available via email. Just contact us!
Program:
Meet & greet (private individuals, clubs, traders/professionals)
10 well prepared roadbooks for your individual outings in the near and far surroundings
Individual tracks with GPS-Points/coordinates
Visit important points-of-interest in Soca-valley – each participating car gets a map
1 guided tour per day with a person of the ORCA team
Lecutres on Saturday evening
Camp-fire at the Soca every evening
Fun-activities in Camp VILI … FOR FREE

Segway-parcours
Rope-bridge
Javelin throw
Erich B. II – Coffee (non profit fund raise for "Make-a-Wish")
Welcome-Play
BERG GoKarts by "Maschinen-Zisser" Klosterneuburg
Foto-Point
Pancake-cooking

Rafting (to be paid at a professional rafting-school in soca valley) reservation in advance necessary
Catering – available in the camp:
Continental breakfast
Ham & Eggs with coffee or tea
Grill á la VILI – Fish or meat or Cevapcici
As last year the bakery of Tolmin will be in the campsite every morning to sell their goods
Further you'll get a list of recommended restaurants/pubs and groceries of the near surrounding
IMPORTANT: in Tolmin and in Kobarid there are a couple of big supermarkets!
 Film about the 4th landrover-meeting in soca-valley:
Compulsory Registration:
[contact-form-7 404 "Not Found"]